March 24, 2023.
WHEN EARTHQUAKES SHAKE BUILDINGS TO THE GROUND anywhere in the world, Dr. Lisa Tobber can't look away. As a structural engineering researcher at UBC Okanagan who specializes in disaster resiliency, Dr. Tobber instead leans into the chaos.
There is too much to learn, she says, and there is much to do to prevent the next tragedy—and they can be prevented.
"We all know natural disasters are inevitable. But we can design buildings to survive—not collapse—so they'll be more resilient and functional shortly after disasters," says Dr. Tobber, UBCO's Principal Research Chair in Women in Engineering and the BC Housing Professor in Resilient Reinforced Concrete Buildings.
She adds: "We currently design for what's called life safety, meaning the building will keep standing and people will be able to leave. But the issue then becomes, 'Will those people be able to get back in?' As soon as the building is damaged or condemned, people can no longer return to their homes."
Examining buildings and how they're built is what she does every day at UBCO. Specifically, Dr. Tobber develops innovative structural systems for mid- and high-rise buildings that produce low-damage responses following natural disasters such as earthquakes.
"We want to know how to design more resiliency for these disasters, and then take those lessons, implement them globally and share that knowledge with the world," she says.
At UBCO—alongside 10 post-graduate students in the Advanced Structural Simulation and Experimental Testing group—Dr. Tobber bends steel and crushes concrete in the university's high-head lab—a three-storey test facility with a crane and reinforced concrete floor section. Stepping inside, you might see what looks like a bridge girder or high-rise truss attached to machines capable of great violence. But they're not Hollywood props from a superhero movie.
Dr. Tobber and her students want to see just how much power is required to force failures in the materials they're testing, so they can be used in the field with confidence. They want to go beyond simply ensuring people have time to escape a building during an earthquake or other disaster; they want the building to remain standing, reducing casualties and limiting rebuilding efforts.
The materials and methods—especially precast concrete—can be more responsible and responsive than many traditional systems. They can make building more environmentally friendly, using less energy and relying on less carbon. Pre-cast concrete shear walls, for example, are manufactured in factories and shipped to building sites. Those innovative approaches may even reduce construction costs to address Canada's housing crunch.
"Industry is evolving its construction methods now to adapt to climate change and to reach net zero to be more sustainable," says Dr. Tobber. "That means new materials are being proposed, timber-frame structures are reaching higher heights, and more modular structures are being developed. But any new construction technology also needs to be analyzed and tested for safety."
Even Canadian standards need constant updating and examination, and a large stock of existing infrastructure requires mandatory screening and upgrading. Dr. Tobber is quick to remind everyone in her home province of British Columbia that earthquakes are a part of life. Even an event with as much force as the temblor that struck Turkey and Syria in February 2023 could happen here.
BC is Canada's most seismically active region, home to hundreds of earthquakes annually thanks to its location along the Pacific Ring of Fire. Furthermore, 150 kilometres from Vancouver—deep under the Pacific Ocean—is the Cascadia Subduction Zone (CSZ). Locked within the 1,200-kilometre-long fault from Vancouver Island to northern California is enough energy to generate a magnitude 9.0 mega thrust earthquake—the so-called "big one." The last CSZ mega thrust earthquake happened in the year 1700 and was powerful enough to trigger a tsunami in Japan, 7,500 km away.
It's estimated that there is anywhere from a 10 to 37 per cent chance of another CSZ mega thrust earthquake happening anytime in the next 50 years. Ten million people live between Victoria, Vancouver, Seattle and Portland alone, a region that's said to generate $600 billion worth of annual economic activity.
Dr. Tobber and her School of Engineering colleagues aren't shying away from the challenge to help BC prepare.
"Dr. Tobber's research is a vital contribution to the School of Engineering's efforts to find solutions to the world's most pressing challenges," says Dr. Solomon Tesfamariam, who is working alongside Dr. Tobber in UBCO's Build Better Cluster. "UBCO wants to be a world leader in disaster resiliency, and not just from earthquakes, but also climate change, the housing crisis and beyond.
"We understand these are interdisciplinary challenges," Dr. Tesfamariam adds, "and so we're building a disaster resiliency research and training platform to bring together different colleagues from the School of Engineering, UBCO and UBC Vancouver to find holistic solutions to move our planet forward."
Interdisciplinary, collaborative research is vital. Dr. Tobber and Dr. Tesfamariam are engineers whose work also encompasses social, economic and policy issues. It's one thing to research building codes and construction techniques, but it's another to affect policy change and secure industry investment.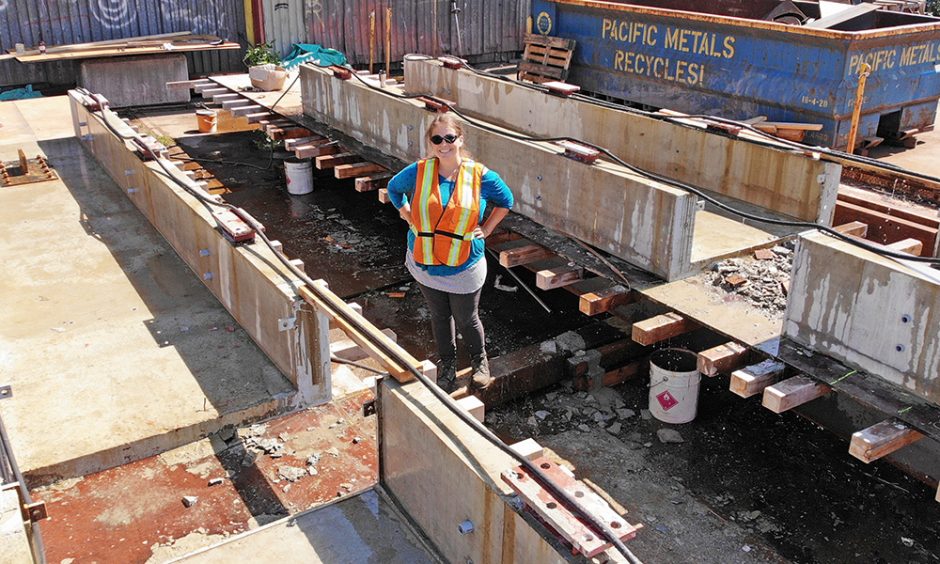 Such work requires support from all sides, which is why Dr. Tobber must also continue finding industry partners who can back UBCO's vital work. She says the industry stands to benefit from more efficient and economical materials, tested methods and reduced costs. The rest of the world benefits as well, with better homes, schools and offices.
With the right preparation, partners and people, she won't have to stare into a disaster zone and expect the worst.
"We have such an opportunity to create buildings that can perform better, be more sustainable and be more resilient, but there's a lot of research and work still to be done to make it possible. We're the ideal place for that. I love the international research and the challenging problems we get to solve here. UBC Okanagan is the perfect combination of two worlds," Dr. Tobber says.
"Those are the two sides of me, as well: the researcher who is invested in working with other countries to solve major global issues, but at the same time is grounded in a community connected to the natural world. I'm quite passionate about making a change to our society and I also get really excited about solving these kinds of complex problems."